'THIS IS A WAR WITHOUT BOMBS. NATURE IS HITTING BACK"
– Gunter Prybyia, flood victim, Rech, DE
AS WE ENTER THE VORTEX, don't expect an official announcement that the global warming emergency has "started." We have already moved well beyond that.
Tipping points have been tipped and pushed over as carbon in the atmosphere climbs in a logarithmic curve past 420 PPM and June 2021 is recorded as the hottest June in North American history.
EXPANSION AND EXPLANATION OF VIDEO TOPICS:
The events described here are happening virtually simultaneously, from June – early August 2021.
00:07: 420PPM: PERSPECTIVE ON ATMOSPHERIC CO2 LEVELS
The concentration of atmospheric carbon dioxide climbed past 420 parts per million (PPM) for the first time in April 2021, the highest level since accurate measurements began 63 years ago measured at NOAA's Mauna Loa Atmospheric Baseline Observatory
The growth rate of CO2, the most common greenhouse gas but not the most powerful, has been accelerating as the 21st Century stumbles into its third decade. For perspective, consider that levels were at 280 PPM in the 1800s, and crossed 410PPM in 2019. Today's CO2 levels today are higher than they have been in 800,000 years, by a lot. CO2 was never higher than 300 PPM during this time period.
CO2 accumulates in the atmosphere and does not dissipate for hundreds of years.
00:15: EUROPE: HEAT WAVES / FLOODS
In early July, Germany and the rest of Central Europe were sucker punched with a record breaking heat wave, followed by floods the slammed the area with little warning. Death toll is in the hundreds and damage to property and infrastructure will be in the billions.
New records were set in European capitals such as Glasgow and Catania Sicily (119F).
Finland reported 93.2F in Saltdal on the Arctic Circle. July 2021 was one of the hottest Julys on record, trailing 2019 and 2016.
The floods that followed after the heat wave in Western Germany (and other countries) took the country by surprise, killing 180 and destroying billions of Euros worth of property and infrastructure. Rainfall records fell in the Rhine states, reporting 6 inches of rain falling within 24 hours.
In early August the heat returned, bringing new records and lethal wildfires in the southern Mediterranean. Greece broke it's all time record at 115.3F.
00:36 HOW LONG WILL THE MIDDLE EAST REMAIN HABITABLE
A wide area including Pakistan, Jordan, Israel and the Gulf States experienced unlivable temperatures as part of a rapidly advancing upward trend.

01:35: SIBERIA: EVERYTHING IS ON FIRE"
Sweihan in the UAE broke its all time record (125.2°F) on June 6, 2021, Countries in Central and South Asia were also reported to have seen extraordinarily high temperatures for the time of year.
Water and cooling are increasingly unavailable to all but the wealthy as the electrical grids are pushed beyond their capacity. Approximately 600 million people live in the region. Temps above 120 F melt crayons, buckle pavement and affect aircraft performance.
00:53: ANTARCTICA SHEDDING ICE AT INCREASED RATES
The trillions of tons of land ice that make up the Antarctic continent are melting six times faster than during the 1990s. Antarctica has lost about three trillion tons over 30 years. The rate of loss is accelerating.
Of particular interest are the ice shelves that extend from the coasts and float on the warming ocean. The hybrid formations "hold back" or slow down the continental glaciers as they flow into the sea. Recent research shows that the shelves are melting from below, with the potential to rapidly raise global sea levels.
For a more detailed summary of polar ice (land, sea and shelf) and its role in global warming, visit polar ice primer.
01:06: HEATWAVES AND RECORD FIRES ASSAULT THE WEST

Pyrocumulonimbus Clouds or Fire Clouds can climb up to six miles high and spawn fire tornados. These systems create their own storms and may also bring lightning strikes that start more fires.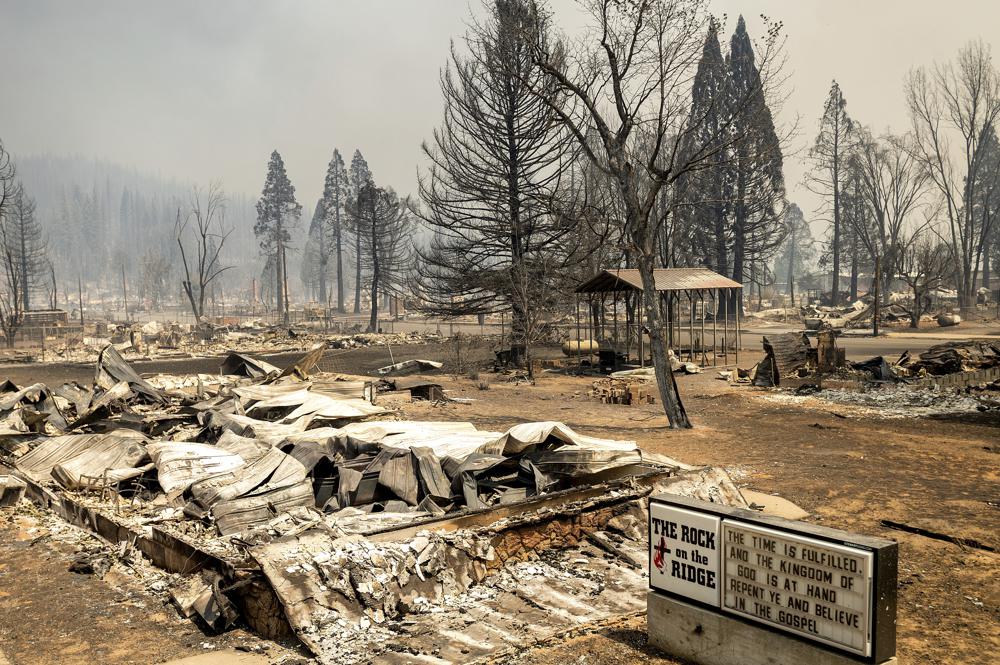 This summer is a game changer for many residents of paradise as they consider whether or not the region is viable. The number of temperature records broken is impossible to list, but the 121F temp recorded in BC more or less sums it up. That's 121F in Canada, not Death Valley.
01: 28: GREENLAND ICE SHEET MELT RATE INCREASES
Greenland is experiencing intense heat waves that dump billions of tons of water into the ocean in a single say. Danish scientists monitoring the ice sheet reported that enough ice melted on August 2 to cover Florida in 2 inches of water.
Beyond the obvious consequences, consider that this is fresh water flowing into salt water, changing the salinity of the water, which in turn affects the AMOC (Atlantic meridional overturning circulation). The Gulf Stream is slowing as a result (see 01:30)

A heatwave in one of the world's coldest regions has sparked forest fires and threatened the Siberian city of Yakutsk with an 'airpocalypse' of thick toxic smoke, atmospheric monitoring services have reported. Local authorities have warned the 320,000 residents to stay indoors to avoid choking fumes from the blazes, which are on course to break last year's record. Officials have described this summer's weather as the driest in the past 150 years.
1:45 SLOWING GLOBAL OCEAN CURRENTS:
Global Weather Patterns Disrupted
The Atlantic Meridional Overturning Circulation (AMOC) is a key global warming factor that most people have never heard of (the Gulf Stream is the best known component of the system). It is often described as a series of planet wide ocean conveyor belts.
The branch known as the Gulf Stream transports warm water north. It flows to the Arctic, cools and evaporates, increasing the salt content in that region of the ocean. As that water becomes colder and heavier it sinks and flows south, creating a second south-moving belt. These belts are connected by regions in the Labrador Sea, the Nordic Sea and the Southern Ocean. They are responsible for bringing mild, warm weather to Europe and keeping sea levels down on the United States' eastern seaboard.
New research is indicating a significant loss of stability over the last century, with new analysis suggesting the possibility that AMOC may be nearing a shutdown. That would be very bad.
02:12: CATASTROPHIC FLOODS AND LANDSLIDES DISPLACE MILLIONS IN CHINA AND INDIA
So called "1000 Year" floods are becoming commonplace in China and South Asia as warming generates more intense and more sustained weather events. But that means they are no longer 1000 year floods.
02:36: HEATWAVE AND WILDFIRES IN TURKEY, SOUTHERN EUROPE
The ongoing climate emergency in Turkey and Greece has become a political liability for right wing governments. Nearly 200 fires remain out of control, with dozens dead and missing.
10,000 have been evacuated from coastal resorts.
In Bodrum, a group of tourists and hotel staff were evacuated by boat as flames spread and plumes of smoke filled the sky, footage showed.
A few hundred miles to the west, Sicily set a new all time record for Europe:
119.84F .