Current Climate News:
UPDATE FEBRUARY 26, 2020
Rapid Ice Melt on Eagle Island and Warm Rivers Converge Beneath the Thwaites Shelf
In an event similar to the massive one day Greenland melt last year, Eagle Island on the Antarctic peninsula lost about 20% of its ice cover in the space of a nine day heat wave in mid-February. As the NASA image shows, much of the land beneath the island's ice cap was exposed as about 4 inches of snowpack melted in a fortnight. Pools of meltwater opened up on the surface of the surface remaining snow.
The continent recorded it's all time high during this period, reaching 65 F on February 6. Climate scientists say they have seen this trend in Greenland and Alaska in recent years, but this is a first for Antarctica.
This February heatwave was the third major melt event of the 2019-2020 summer after similar events in November and January. Says Nichols College glacieologist Mauri Pelto "If you think about this one event in February, it isn't that significant. It's more significant that these events are coming more frequently."
In a related story from science journal Nature, a new expedition to Antarctica's troubled Thwaites Glacier has discovered three streams of warm water running beneath the ice shelf, melting the glacier from below. Pine Island glacier, which has just calved an ice berg the size of Manhattan, is sending a river of warm water south to the Thwaites, while two other under-ice rivers are merging on the eastern side, once thought to be the more stable region of the formation.
UPDATE FEBRUARY 19, 2020
DRIVEN BY CLIMATE CHANGE, LOCUSTS DESCEND ON EAST AFRICA
The Horn of Africa is being invaded a downright biblical plague of locusts, filling the skies with nasty, voracious flying insects and consuming the food supply of tens of millions of people. The perp is not the vengeful god of the Old Testament, however, but rather changing weather patterns driven by rapid climate change. that have allowed the once limited species to survive longer, leaping over bodies of water that once limited their spread.
The phenomenon is driven by an outbreak of unusual cyclones in the region, in turn caused by an disruption to the Indian Ocean Dipole. The unusual and protracted wetness in the normally dry region is allowing the desert locusts to reproduce exponentially. While the climate science is somewhat arcane, the results are all too real. This ocean temperature gradient is also linked to the wildfire catastrophe in Australia.
This is not the first time locusts have swarmed the region, but it is unprecedented in its scale and duration.
EXTREME WEATHER: BOMB CYCLONE IN EUROPE, RECORD FLOODING IN MISSISSIPPI AND HURRICANE PETRA IN SWITZERLAND
"Storm Dennis is a bomb cyclone that just whacked England with 100 foot waves and hurricane force 98 MPH winds. It follows Storm Ciara, which delivered heavy rains and flooding last week. Dennis is the second strongest storm to hit the region.
These storms are called bomb cyclones after the scientific term bombogenesis, which means they intensify rapidly. Technically, the storm has to feature a barometric pressure drops by 24 millibars in 24 hours. Dennis doubled that, falling 50 millibars in 24 hours.
Bombogenesis is not a new phenomenon, but it has become alarmingly common in only the past couple of years.
Storm Dennis follows on the heels of the widely ignored Hurricane Lorenzo from late last year, a Cat 5 monster that was the most powerful hurricane in the eastern North Atlantic hurricane of all time.
Switzerland reported the strongest winds in it's history as Hurricane Petra caused flooding, extensive infrastructure damage and 80 MPH winds,
In Jackson, Mississippi, where the natives don't believe in global warming, extreme stormage has nevertheless caused record flooding on the Pearl River, causing evacuations across the state and northward into Tennessee.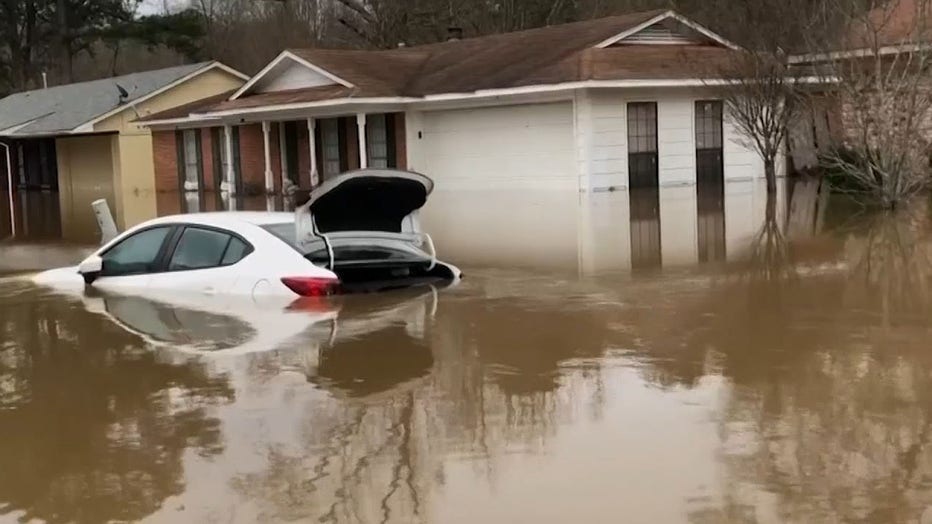 Europe has just recorded the warmest January in its history.
PINE ISLAND SHELF BREAKS AWAY FROM THE ANTARCTIC COAST.
The Pine Island glacier – described as as big as Las Vegas or twice as big as Washington, DC (your choice) – has broken away from the coast of Antarctica. One of the Pine Island and Thwaites Glacier themselves contain enough ice to raise global sea level by about feet. These events don't prove global warming in and of themselves, unless you put them in a global perspective, and then they should get the attention of even the most steely eyed climate denier.
On Valentines Day, Antarctica set a new continental record for high temperature: close to 70 F.
NEW METHANE HOTSPOTS REPORTED IN ARCTIC FLYOVER RESEARCH
A new NASA research project has detected new sources of methane emissions in the Arctic. The thawing of the permafrost has been of recent and growing concern, as the region begins to release CO2 and CH4 from previously frozen ecosystems. This is one of the classic climate feedback cycles: as the permafrost releases more GHG, warming increases, and more permafrost melts.
The reason this new study is alarming is that it locates the new sources near flowing bodies of water. Flowing water is increasing rapidly in the area as the ice embedded in the ground melts.
The Arctic is warming about twice as fast as the rest of Earth.
As February gets underway, note the following Climate Emergency Updates
Esperanza Station, Antarctica: 65° F | Los Angeles 64° F | Huntsville, AL 64° F*
UPDATE FEBRUARY 14: The Continent of Antarctica just set a new all time winter record for high temperature: 70° F
February 7, 2020: Another new high temperature record of 65°F was set today on the Antarctic Peninsula, breaking the previous record set 5 years ago by more than a degree F. The Southern Ocean is warming faster than the rest of the planet, causing acceleration in the breakdown of the coastal ice shelves. Anchored on one end on the edge of coastal land, the floating ice shelves, are what holds back the trillions of tons of land ice on the continent. The shelves have been shown to be melting from below by 36° F ocean waters.
Abrupt Arctic Tundra Topography Collapse
New research in Nature Geoscience shows that the ice that keeps the permafrost "perma" is melting even faster than previously believed, resulting a rapid change in the topography of the land itself. The process is called "thermokarst" because a thermal change causes the land to subside, producing what is literally a new quickly eroding topography.
Forests become lakes, sinkholes open abruptly, methane seep holes appear and greenhouse gases are released into the atmosphere…driving one of the more convincing climate feedback cycles. The thawing process releases "trapped" CO2 and methane into the atmosphere, leading to more warming, which leads to more thawing which leads to more carbon emissions
The new study, which affects about 20% of overall permafrost area, indicates the rate of emissions for the region may be double prevailing estimates.
More at Desdemona. https://desdemonadespair.net/2020/02/fast-and-dramatic-permafrost-thaw-will-double-previous-estimates-of-potential-carbon-emissions-forests-can-become-lakes-in-the-course-of-a-month.html
New Report on Bumblebees Is Not Good Unless You Hate Bumblebees.
According to a new report in Science, the population of bumble bees and other key pollinators continues to decline "drasticly" in North America and Europe. The report blames hotter average temperatures and more frequent extremes. Perhaps the most ominous language in the report is describes the decline as consistent with a mass extinction.
Bad News, Good News?
The Trumpian plunder monkeys have kept their promise to the fossil boys, opening up former protected lands in Utah to mining and drilling.
This is what the Kennecott Copper Mine near Salt Lake in Utah looks like. If you think it's nice decoration for public lands, then you will be very happy.
But on January 31, CNBC host Jim Cramer let his viewers know that fossil fuel investments are now "in the death knell phase." Three days later, Goldman Sachs – not known for their liberal positions – downgraded oil giant Exxon's stock, advising investors to sell their shares.
Is this good news? Time will tell.
—————–
*Yes, I know it is summer in Antarctica and winter in California.
** A hefty percentage of which is rooted in a long history of American governmental interference in the region – but that's another story.
***Yes, total rainfall can decline while flooding increases, as periods of drought are punctuated by extreme storms.
January 2020:
Jan 28: BRAZIL: CRAZY RECORD RAINS + FLOODS + MUDSLIDES
One year after extreme weather induced a mining waste dam collapse (271 dead) catastrophe, record rains have wrought flooding and landslides in the Brazilian state of Minas Gerais. Dozens are dead and missing and 30,000 have been evacuated as rains continue for the third day.
New records were set for most rainfall in a 24 hour period.
For an update of 2020 Climate Events, FOLLOW
---
ADD DUST STORMS AND DEVASTATING HAIL TO AUSTRALIA'S APOCALYPTIC TROUBLES:
The wildfires that have consumed Australia's southeast, including areas around it's major population centers, have gotten plenty of media coverage. That is due in large part to the good visuals that accompany this type of story. An area about the size of Virginian has been burned. Millions of animals and birds have died. The economic toll had not even begun to be calculated when the area was hit with a massive dust storm followed by an apocalyptic hail storm.
2019 was the hottest, driest year on record in Australia, which is saying something. Summer is only half over. With no moisture in the air, the intensity of these fires is hard to describe.
INDONESIA RECORD STORMS / JAKARTA SINKS
Beginning New Year's Day, Jakarta has been inundated by catastrophic storms that brought intense rainfall and lethal flooding to the city of 30 million, with 15 or 20 inches coming in 24 hours. Even in a megalopolis prone to flooding, this storm is in a class of its own. Millions have been evacuated. The situation of course, is exacerbated by stupid human tricks, because massive quantities of groundwater have been sucked out from beneath the city. As is often the case, there is both too much water and not enough to drink.
Monsoons are normal in this region, but the new weather patterns bring much greater quantities of rain over the course of fewer, less predictable storms.
NEW WINTER HEAT RECORD AS TEMPS REACH 66.2 F IN NORWAY
Norway broke it's all time national high temperature record for any January, reaching 66.2F (or 19C as they say in Norway) two weeks ago. The far northern country broke several records last summer as well.
Record highs were also reported in Boston and New York, running 35 degrees higher than normal.
STORM GLORIA BRINGS 60 MPH WINDS AND 45 FOOT WAVES TO SPAIN / FRANCE
Coastal towns were lashed by 60-foot waves, and villages farther inland were buried under mountains of snow. Dozens of people died and bridges collapsed as sea surges reached as far as two miles inland.
OCEAN TEMPERATURES HOTTEST EVER IN 2019 AND CLIMBING FASTER
The heat in the world's oceans reached a new record level in 2019. Although 2019 was only the "second warmest" on record for atmospheric temperatures, the oceans are heating up faster than ever. Oceans absorb and store 90% of solar heat energy. Hotter seas cause more severe storms and further contribute to rising seas through thermal expansion and kill marine life.
April 29, 2019: Cyclone Kenneth, a second world class mega storm, has struck Mozambique only a few weeks after Cyclone Idai devastated the region.
April 27, 2019: Vietnam posted its hottest day in it's history as a country – but it's only April. A high of 43.4C (110F) was Huong Khe, Ha Tinh province, an area that usually averages 80F.
The death toll from Cyclone Idai in Mozambique and Zimbabwe may exceed 1,000 as 90% of Beira is described as "destroyed." This is the most powerful cyclone to ever hit southern Africa. Coverage here.
According to the science journal Scientific Reports, unprecedented numbers of tropical species migrated north during the marine heatwave of 2014-2016, including jellyfish, crabs and fish.
The week of Mar 10 saw extreme weather in the US Midwest, essentially a "land hurricane", described as a Cyclone Bomb. Historic wind, rain and flooding. For those of an ironical bent, many in Nebraska and Iowa are describing the flooding as "Biblical."
The hottest 18 years in terms of surface temperature have happened over the past 19 years. Over the past decade, there have been 21,461 record daily highs and 11,466 lows in the US. The planet's coldest years on record are now over 90 years old.
The Colorado River is disappearing and not so slowly. Global warming is one of the causes. Water flow has decreased 16% over the past century and the water level in Lake Mead is down 150 ft.
Australia's summer has been the hottest ever, punctuated by a relentless drought and unprecedented flooding.
Antarctica is about to lose another major chunk off of the Brunt Ice Shelf in West Antarctica. This New York City-sized sheet will be the largest ever observed. If you want to know why ice shelves are important, find more here.
The British Isles have posted a new all time record high for the season of WINTER, as temps reached 20C or about 68F on Monday.
FIVE SIGMA: Feb 25 – Confidence among climate scientists globally has reached the five sigma stage that humans were raising the Earth's surface temperature. This is the Gold Standard that statistically indicates one-in-a-million chance of error. The conclusion was reported Monday in the Nature Climate Change, a scientific journal.
The British Weather Service reports that the next five years will continue the warming trend for global atmospheric temperatures, as reported by NOAA, NASA and Berkely. The last five years have been sequentially the hottest on record, with the 10 hottest years occurring since 1998.
The oceans have absorbed about 40% more heat over the past 20 years than previously believed.
Tasmania is burning, as dry lightning strikes ignite fires over 60 fires across the island state. More here. Dry lightning occurs when temps are so high that rain does not reach the ground.
Jan 28 Most of Australia is in the midst of a frightening extended heat emergency. The future has already arrived down under.
Nothing but bad news in Antarctica, as the eastern glaciers – once thought to be stable – begin sliding into the ocean, and sea is is melting 6x faster than it was 30 years ago. More on the state of polar ice.