10 BILLION SNOW CRAB DIE OFF IN THE EAST BERING SEA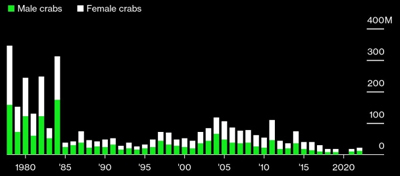 A new research report confirms that rapidly warming waters triggered the mass die-off of billions of Alaskan snow crabs. The collapse pf the population is linked to a marine heat wave that occurred in the region between 2019 and 2021. Prevailing theory is that the warming waters elevated the crabs' metabolism, causing them to die of starvation. $ Billions will be lost, and a large percentage of the fishing businesses are expected to declare bankruptcy.
HURRICANE OTIS INTENSIFIES TO CAT 5 IN RECORD TIME
The hurricane, which made landfall near Acapulco on Wednesday morning as a Category 5, intensified by about 110 mph in just 24 hours. Rapidly warming oceans are making storms more powerful and difficult to predict. This record breaking storm surpassed Hurricane Patricia (2015), which was the first to shock climate scientists in terms of rapid intensification.
MASS DOLPHIN DIE OFF IN THE AMAZON AS RIVER WATERS HIT 102 °F
Hundreds of pink river dolphins are dying in the Amazon Basin as record temperatures and an extended drought take their toll on the intensively threatened ecosystem. The immediate cause is attributed to extreme temperatures in Lake Tefé, measured in excess of 102 °F.
The Amazon region contains about 20% of the world's fresh water, but most rivers are now becoming impassable as water levels drop.