Humans are funny. As a certain segment of the population obsesses over how expensive it is to fill up the family Escalade, climate shock marches on. Yet most of the stories below barely make the news and if they do, hardly register. Will snapshots from a global perspective move a few people? Here's what's happening now around the planet. Read Adaptation vs Mitigation.
WINTER 2022
French Water Wars Reflect Global Trends:
Police guarding water infrastructure assets as civilians rebel
The American West and Middle East are not the only places water wars are becoming increasingly urgent and violent. In France (not a country one thinks of as water challenged) gendarmes are guarding water supplies as water use stakeholders face off in the face of fast changing conditions. As the country reels in the aftermath of a record summer heat wave – a season of wild fires and shrinking rivers – authorities are attempting to construct massive reservoirs to retain water specifically for the commercial agriculture industry. This is not sitting well with taxpayers who are funding the projects, who claim the reservoirs are tantamount to illegal privatization and benefit a select few of wasteful industrial farms.
In Nouvelle-Aquitaine, thousands of activists protesting a new "mega basin" reservoir confronted military police armed with tear gas. The protesters ripped out pipelines used to feed the system.
Environmentalists are also displeased, citing the consequences of diverting this quantity of water from ecosystems.
Whatever the merits of these respective positions, they reflect similar events and conditions around the planet, from the American West, Egypt, the Middle East and Africa. Elsewhere, smaller scale vandalism and civil disobedience episodes are multiplying as citizens resist water restrictions regulations. Water is being stolen from resort Jacuzzis, fire departments and cemeteries.
Activists or saboteurs, concerned citizens or criminals, these scenarios are now a daily occurrence around the world.
SEPT – OCT 2022
TREAT TO BEAT YOUR FEET IN THE MISSISSIPPI DUST
Water Levels Drop To Historic Lows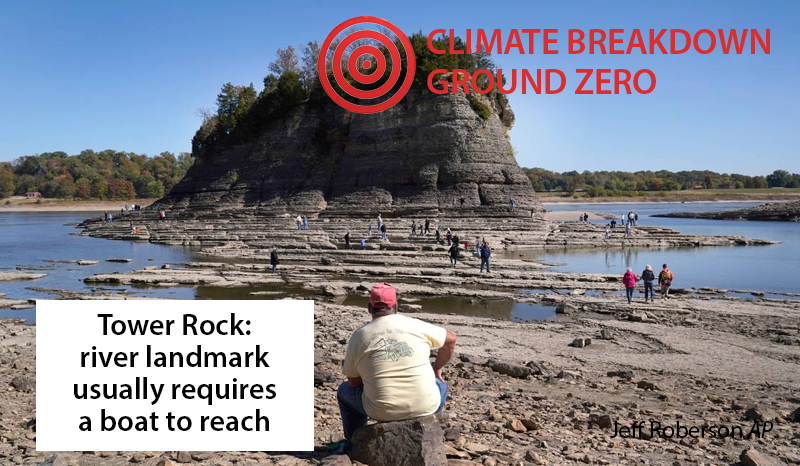 The ongoing Midwestern drought in the has reduced the mighty Mississippi to a trickle of its usual self, causing serious disruption to one of the country's prmary shipping routes. The key Memphis gauge showed a record low of -10.81 ft., with other meters across the region confirming the trend.
CLIMATE WHIPLASH DRIVES EPIC BRITISH COLUMBIA DROUGHT
The new normal has already been here for a while
Global warming is driving an epic drought in Canada's so called "wet coast" as rivers and streams dry up and salmon die. The drought is rated at level 5, which means the conditions are driving measurable economic adversity. At least one community has declared a state of emergency. In Victoria, the provincial capital, 2mm of rain have fallen over the past six months, a drop in the bucket compared to the 220 mm normally expected.
The area is also experiencing mass salmon die-offs and hundreds of forest fires as heat records continue to fall. Hydroelectric operations are also being affected.
MORE EPIC FLOODS EXTEND AUSTRALIA'S CLIMATE SCHIZOPHENIA
Following month upon month of epic flooding, large expanses of Victoria, New South Wales and the island state of Tasmania were inundated by torrential rains, with rising waters expected to continue for days. At least two are dead.
Record breaking rains have been smashing the region since March/April 2022, driven by an unusual three year La Niña and unrelenting global warming. Damage in the Fall event cycle was approx. $4 Billion.
Last week (Oct 14) Thousands of homes in Victoria State were evacuated or cut off with rivers near Melbourne exceeding record floor markers. Worsening the situation is the fact that the ground is already saturated, preventing normal run off and drainage. Thousands more evacuations are expected this week as waters rise.
Among developed Western nations, Australia – the world's second largest coal exporter – is considered the climate collapse canary. More here.
NORD STREAM PIPELINE METHANE RELEASE LIKELY A RECORD EVENT
Unknown terrorists appear to have sabotaged the Nord Stream 1 and 2 pipelines in the Baltic Sea, releasing a horrifying amount of methane into the atmosphere. A minimum of 500,000 tons of greenhouse gas was spewed into the air until eventually the pipeline was shut down. Although this is likely the worst single event release of methane in fossil fuels contribution to global warming, it is relatively tame when compared to the quantities released every day operations.
CLIMATE REFUGEES RELOCATING AS GULF SWALLOWS

LOUISIANA
Isle de Jean Charles, LA has lost 98% off its land as climate driven sea level rise eats away what's left of the largely indigenous community. Located fewer than 100 miles southeast of New Orleans, the small island is increasingly isolated as the lone access road in inundated by Gulf waters. But this isn't the tribe's original home: they were forcefully relocated in 1830 so the white man could steal their land. Only 26 families remain our of the original 300. With a coastline severely compromised by oil and gas industry, the state is losing a football field's worth of land every hour and a half.
Flip Side of Climate Whiplash: Catastrophic Floods
The ironic mirror image of this emergency is unprecedented flooding, as storms and extreme weather overwhelm entire nations and kill tens of thousands.

Global Warming is drying up the world's rivers and lakes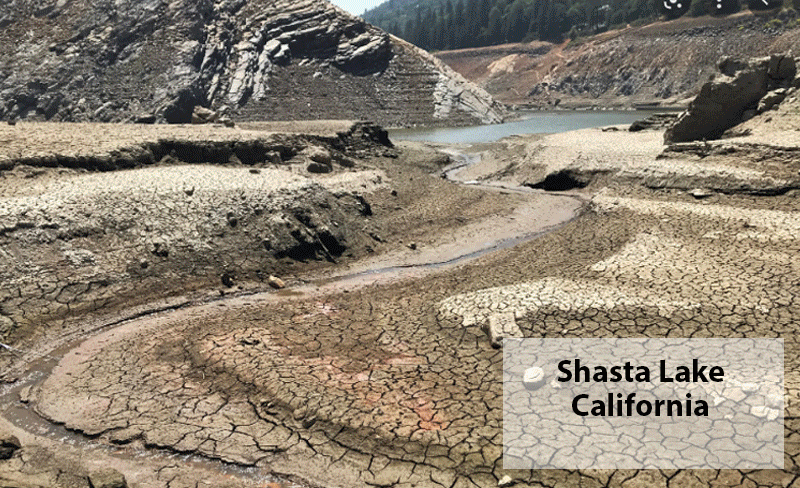 The Earth's waterways are shrinking and drying due in large part to global warming. While La Nina and human intervention also play a role, the over-riding factor is radicalized weather patterns driven by climate change. Extended drought in the American Southwest, Europe and China are affecting larger areas of agricultural output, threatening crops in millions of square miles of farmland.
Zombie Fires in the Arctic as tundra thaws and temperatures soar
Zombie fires in Siberia, Scandinavia and Alaska threaten megafire outbreaks in the spring, as blazes from the previous year smolder underground over winter and then re-ignite. In this rapidly changing region, exponential increases in intense lightning storms and flammable grasses suddenly growing on thawing tundra are driving record wildfires. Another critical component of the dangerous Arctic greening phenomenon is the rapid spread northward of white spruce, adding more potential fuel for fires.
Dallas in climate whiplash scenario: Record floods follow record drought
Dallas and North Texas got hammered with a summers's worth of rainfall in one day, as up to 15 in of rain fell in 24 hours. 100s of people were rescued and one person was swept to their death. The event is an example of climate whiplash, a term for drought flood drought patterns increasingly seen around the planet.
Quanzhou bridge cracks in half in record China 104​​°F heatwave.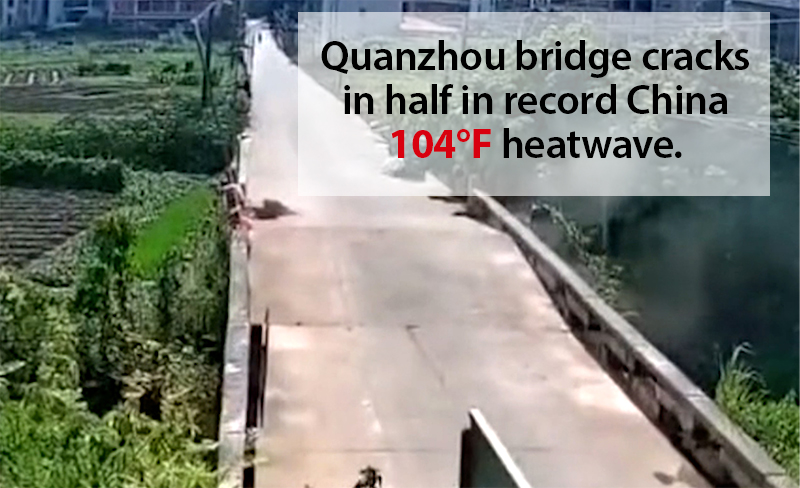 A two month long extended heatwave in China is wreaking major damage to infrastructure and agriculture. In central and southwest China, authorities are attempting cloud seeding in an effort to mitigate the lethal drought that has enveloped more than half of the country.
Extended Mexico drought drives devastating water shortage.
Two-thirds of Mexican municipalities are running out of drinking water, as tens of thousands of citizens stand in line for hours in the heat to wait for an allotment from sporadic government water trucks. The crisis is also fueling unrest, as thirsty people have taken to blocking highways and even kidnapping government workers.
In major urban areas such as Monterrey, the three reservoirs that deliver more than half of the water for 5 million people have been emptied. Some districts have gone 75 days without water, while others get only a few hours of water.
This is not an isolated village in the desert. Monterrey is a wealthy metro area of 5 million people.
[ AT THE SAME TIME, COCA COLA AND OTHER BOTTLED WATER COMPANIES ARE PLUNDERING 50 BILLION GALLONS/YR FROM MEXICO'S PUBLIC AQUIFERS.
Roughly half of Mexico is now in drought, about double the area a year ago. Based on climate science reconstruction, this situation reflects the driest two decade period in 1,200 years.
The worsening water shortfall mirrors the extreme problems in the American Southwest, which is believed to be in a megadrought that may persist for hundreds of years. Key reservoirs such as Lake Mead, Lake Powell and Lake Shasta have fallen to critical levels, nearing dead pool status.
Around the planet, the climate emergency is triggering serious water shortages in England, France (worst on record), Chile, Morocco, South Africa, Italy, India, Netherlands, Spain, East Africa and China.
Another three day megamelt event in Greenland
Between July 15 and July 17, 2022, 18 billion tons of Greenland's massive sheet of land ice liquefied in the heat and flowed into the North Atlantic. Although it's not on the same scale as the extraordinary Greenland melt of 2019 (which dumped 527 gigatons tons of meltwater into the ocean), it is significant as the latest instance in a series of flash thaws that simply were not happening until a few decades ago.
If the runoff from the melt were somehow transported immediately south, it would cover 25,000 sq mi in 4 inches of water. It will over time contribute to relentless global sea level rise.
And there is another trend amplifying the fresh water pouring into the polar seas from thawing Greenland and Antarctica land ice: Rapidly warming oceans are also contributing to sea level rise for the straightforward reason that increasing temperature causes everything to expand, including oceans. Without doing a deep dive at this point, suffice to say that the seas have been absorbing and storing both CO2 and heat energy for several decades now.
Temperatures on the Greenland ice cap were averaging 60°F degrees over the course of the three hot July days (about 10 degrees F over normal) cited. Prior to the year 2000, there were no such intense warming events in Greenland. The trend since then has escalated upward, with a notable series of spikes since 2010. One of the more dramatic in the past few years, this specific melt is in the top two incidents observed.
Its data has shown a loss of ice from Greenland of about 200 billion tons a year over the past two decades. Currently, the net loss is about 300 gigatons annually.
Out of control Alaskan fires force evacuation of mining camps, towns and parks
Over 500 fires have sent more than 3 millions acres up in flames since spring, with over 250 still burning. May and June were record breaking months for drought.
Drought, early snowfall melt, high winds and a significant increase in lightning strikes are the immediate causes, with global warming being the overarching driver. The lightning strikes are a result of steadily increasing water vapor in the atmosphere`, which generate more thunder storms which in turn are the result of higher temperatures in the region. Four days in July recorded 40,000 strikes, about two thirds of what would have been expected for a year in pre-climate crisis times.
The warming climate is also increasing the amount of vegetation in the state, which means there is more fuel to burn.
The Arctic regions as a whole is warming about four times faster than the rest of the planet.
France's second major heatwave this summer is driving a new round of toxic wildfires
The southwest of France is engulfed in flame and thousands are being evacuated as escalating fire drive citizens from beaches and people from their homes and business. French authorities warn that the smoke plumes from these firestorms is toxic.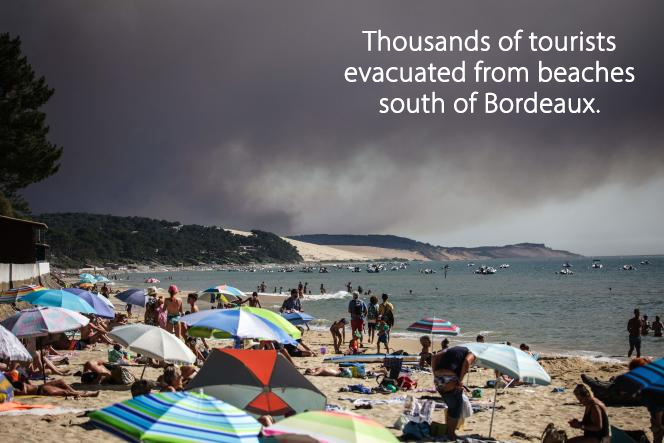 104°F

England breaks all time heat record as runways melt and Europe burns
London's Heathrow recorded 104°F, with a possible new high of 106°F possible this week. The previous high was recorded in 2019. (London is 51°30′N, about the same latitude as central Alberta, CA.) More importantly in terms of ultimate health effects, the overnight "low" was 77°F
At Luton Airport in London, flights were halted as the runway became too soft to use (described by officials as a "surface defect.") Schools and businesses were closed in the region in a country ill-prepared to deal with extreme heat. Some rail services were cancelled after tracks overheated or buckled and fires broke out in various locations around the capital.
THE HEAT STAYS ON IN TEXAS AND SOUTHERN PLAINS
The historic heatwave continues in Texas and the Southern Plains continued this week and is expected to get worse. Houston, Harris County and the surrounding region have been suffering extreme heat since May, with the most recent resurgence reporting temperatures of 105°F in the city and 113°F inland on July 11. The humidity, as always, is suffocating.
113°F Somerville, TX | 111°F College Station, TX | 109°F Waco, TX | 107°F Dallas, TX | 110°F Austin, TX | 107°F Pueblo, CO | 100°F Denver, CO | 111°F McCook, NB | 111°F Hill City, KS
EUROPE IN THE GRIPS OF ANOTHER CONSECUTIVE EXTREME HEAT WAVE
Spain, Italy, Portugal and the rest of the Western Mediterranean are experiencing extended extreme drought and flash wildfires amidst epic heat. In the northern regions of Spain, where extreme heat is rare, temperatures soared to 108°F in places, with 113°F reported near the Portugal border. An unprecedented 80% of mainland Portugal is under an "exceptional" risk of fire warning. Wildfires also raged out of control in France, Croatia and Turkey in the second killer heatwave in two months. Thousands have been evacuated.
Sydney Au hit by third catastrophic flood onslaught this year
More than 50,000 citizens have been ordered to evacuate Sydney's northwest suburbs as new flooding washes away roads, houses and bridges. The latest deluge follows record breaking rains that poured a year's worth of water in the NSW capital over just a few days. Many roads into the area are submerged, others are damaged and barely passable. Emergency crews are pulling drivers from submerged vehicles.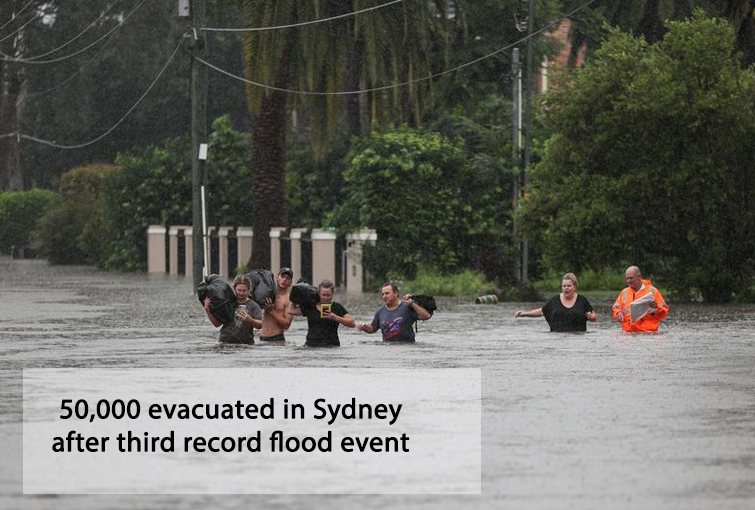 At this point, one violent flood video looks pretty much like the others, so let's take a moment to make a critical point: As is the case with most global warming driven events, this tragedy is significantly exacerbated by ill-advised human practices. Much of the infrastructure that has washed away should simply not have been built. This is not a secret and this is not an isolated incident.
While damage estimates are preliminary, Australian officials are already warming that the economic impact from the floods "will be substantial".
Watch our video on Australia's "New Normal"
ITALIAN GLACIER BREAKDOWN KILLS 6+ DURING RECORD HEAT
["Clearly it's something abnormal." ]
A record heat wave is being partially blamed for a sudden glacier collapse July 3 in the Italian Alps. A huge chunk of Ice, snow and rock smashed down the mountain and onto a popular trail. The initial death toll is eight plus additional injured, but is expected to rise.
The massive surprise avalanche took place on the Marmolada, a 11,000 foot peak in the Dolomite range as the popular tourist area was crowded with summer hikers and climbers.
Temperatures on the mountain – about two miles above sea level – reached 50°F, warm enough to melt a whole lot of ice.
The Marmolada glacier is among the majority of glaciers around the world that have been shrinking precipitously in recent decades. Having already lost much of its volume, the glacier is expected to be completely gone in a decade.
Climate scientists have denoted the Mediterranean region including southern Europe, the Middle East and northern Africa as a "climate change hot spot." In increase in intense heat waves and water shortage is predicted.
While the accelerating loss of glacier ice around the planet appears to be less dramatic and the disappearance of polar ice, it is in some ways more critical to humans. In addition to the loss of natural beauty and the ongoing threat of glacial lake breakout events and avalanches, the disappearance of mountain ice will deprive billions of fresh water sources.
Read more at "The Ice Goeth" at Rapid Climate Change.
Heat Kills Thousands of Cattle In Kansas and Nebraska
Like the baby alien in John Hurt's chest, It did not take long for the conspiracy theories to pop up after "many" thousands of cattle died in a formidable late June heatwave centered in Ulysses, KS. Similar incidents were reported in Nebraska and other parts of the region.
Authorities in Kansas attributed the mass death's to heat stroke, but others on the internet knew otherwise. While there was no shortage of in-the-know assertions – including chemtrails and aliens – the prevailing conjecture among the loonie toons was that the cattle demise was the work of one Bill Gates. No surprise there. Gates is well know to be developing fake meat, which he is planning to force literally down our throats. Probably he needs even more money, or he could just be evil, like George and Hillary.
There were other variations, including that the mass slaughter was perpetrated by the government or ranchers with the intention of jacking up the price of beef.
In an Instagram post, one of the Q types noted: "This is not normal."
Yes, it is not.
Scarlett Hagins, a spokesperson for the Kansas Livestock Association, announced that cattle were lethally stressed by a sudden ramp up in temperature from the 70's to 108°F, accompanied by high humidity. Conspiracy disciples list a wide range of numbers, but other credible sources are reporting numbers as high as 10,000. LINK TO DTNPF.COM. The official death toll remains at 2,000.
This single event is not likely to affect the price of beef in the long run, but it does point out that cattle (and most life forms) can only stand temperatures to a certain point. With these particular incidents, the fact that temps remained high overnight was a major contributing factor. Of course, the fact that the cattle are jammed shoulder to shoulder into feed lots doesn't help. Sorry, cows.
Since there is very little evidence that average temperatures are going down in the mid-to-long term, it is fair to say this event may be a harbinger.
Add China to the simultaneous heat wave trend
(WITH HISTORIC FLOODS IN THE OTHER HALF OF THE COUNTRY)
June has been a month of record breaking heatwaves in the US, India, Pakistan, Europe and parts of Africa. As the month closes, China reports a double whammy of extreme climate events, with blistering heat in the northern and central provinces and devastating floods in the South.
In the flood zones, cars and houses are under water, while in the north highways are buckling from the extreme heat. You know the drill.
These concurrent disasters are consistent with statistical trends that show more or less indisputably that global warming is ramping up both the intensity and the frequency of extended droughts and floods.
Monterrey, MX runs out of water amidst intensifying drought
Atmospheric

CO

2

levels reach highest level in 4 million years
Almost no one noticed as atmospheric concentrations of carbon dioxide crossed the 420 ppm threshold in late spring, a level 50 percent higher than during the pre-industrial era. According to NOAA, it was the highest level in about four million years. Way back then, sea levels were between 16 and and 80 ft. higher than now and Antarctica was heavily forested.
Methane levels also continue to climb, reaching levels about three times greater than pre-industrial times. As a greenhouse gas, Methane is understood to be about 30 times more powerful than CO2 but the latter molecule remains in the atmosphere for thousands of years.
Spring ends with record European heatwave and temps near 110°F
All time records fell across southern Europe over the last week of spring as temperatures reached 109.22°F in Biarritz and 108.5°F in Bordeaux. The heat wave has also brought scorching heat in Spain, Italy and parts of the UK. The Intense heat is driving wildfires, with air quality worsening due to Saharan dust. It was Europe's earliest recorded heat wave. According to Meteo France, global warming is making heat waves 5 to 10 times more intense than a century ago.
At the same time, northern Italy continued to be afflicted by an ongoing drought, in the Po River Valley. Not only are crops affected, but reservoir levels have dropped to levels that affect hydroelectric capacity.
Somalia's 'Dire and grim' drought leaves millions starving
A million and a half children are facing acute malnutrition due to an exceptional drought hanging on in Somalia's Baidoa district.
About 750.000 people have left their homes to find water, food and pasture. In all, about 25% of the total population is in dire straits.
In the pas few years, Somalia and the Horn of Africa have been devastated by a succession of climate crisis-driven extreme weather events, including flash floods, cyclones, sustained high temperatures and even a biblical locust infestation.
The drought is caused by a fourth straight failed rainy season, bringing more than six million people to the brink of famine. A fifth failed rainy season is predicted.
[Across the whole of east Africa, 89 million people are now considered "acutely food insecure" – equal to about 25% of the US population]
New Round of Wildfires Wreak Havoc near Flagstaff, Arizona
Fueled by gusty winds through drought-stricken remote terrain, wildfires burning north of Flagstaff, Arizona, exploded in size on June 13, with more than 24,000 acres had been torched by Tuesday morning. Driven my another heat wave and the ongoing megadrought throughout the West, the Pipeline and Haywire fires forcing evacuations in the Flagstaff area and as far away as California.
Unprecedented Flooding In Yellowstone Park Forces Evacuations
Yellowstone National Park and nearby communities were hit by record floods on June 14, washing out roads and bridges, cutting off electricity and forcing visitors to evacuate the iconic park at the height of summer tourist season. According to authorities, the course of the Yellowstone River was changed by the force of the floodwaters..
All entrances to the park were closed due to the deluge and mudslides, caused by heavy rains and melting snowpack, while park officials evacuated tourists out of the most affected areas. It is not known how long roads and other infrastructures will be unusable, especially in the northern sections of the park. According to CNN, large areas of the parks may remain closed for a long time.
Killer Heat Wave Southwest USA
The Southwestern USA is in the midst of the second major 2022 heat wave as records fall in Phoenix, Vegas and possibly Death Valley. The National Weather Service in Phoenix, Albuquerque, Houston and San Antonio warned residents of extreme heat, exceeding 110 degrees in some areas. Texas, Oklahoma and Arkansas are under heat advisories. Early record highs in Phoenix: 113F. Vegas: 109F.
The heat wave continued into the Eastern part of the country, as more than 20 US cities set or tied records for the date,. Macon, Georgia, hitting 103°F and Midway Airport in Chicago reporting 100°F. More than 120 million people were under heat warnings and advisories Wednesday, according to the weather service.
MAY
Iraq Nearly Shut Down In May 2022
An increase in global warming driven sand storms in Iraq, Iran, Syria, Kuwait, and Saudi Arabia has closed airports, schools, and government offices and sent thousands to the hospital with respiratory issues. The monster storms cover an area from Dubai to Damascus with biting sand particles swhirling down from an apocalyptic orange sky. The region has been in a growing drought for more than a decade as hotter, drier conditions are forecast to continue and worsen.
OUTER BANKS VACATION PROPERTIES CRASH INTO THE SEA
It's bad enough when Cajuns, indigenous tribes and a south sea islanders find their homes and lives submerged under rising seas, but when it starts happening to rich Americans you know things are starting to get serious. That's what's happening in the Outer Banks of North Carolina (OBX), as vacation homes suddenly disappear into the Atlantic, leaving owners with complicated emotions, none of them good.
"There is nothing left of our house,. We don't know where it's gone. But it's just completely gone." – former property owner, Trade Winds Beaches, NC after February 202 storm.
North Carolina's narrow barrier island vacation land has been under ongoing threat from sea level rise for decades, with seas rising approx. one inch every five years. The fact that the islands are prone to massive and sometimes sudden erosion is not news. This has been going on for millennia. What is "news" is that global warming is driving ocean encroachment at unprecedented rates, too quickly for sporadic (taxpayer funded) human efforts at containment to have much effect.
According to officials in NC (at one point the term climate change was banned by law for public agencies – because… Republicans), some beaches are slipping away at a rate of 14 feet / year).
Simultaneous, coastal storms are ever more frequent and intense. Highway infrastructure is under constant barrage, with key roads buried under several feet of sand on a regular basis. Roads can be elevated, but that's ultimately a losing game. Some communities are pursuing "beach nourishment" another one of the euphemistic terms (like climate change or natural gas) that doesn't fully capture the process. Beach nourishment means pumping sand from somewhere else and hoping it stays there for awhile. But in the face of rapid sea level rise, odds are that it will not.
It's not like the developers and homeowners weren't warned. But as it the case in Miami Beach, New Jersey and coastal areas around the world. they just keep building. But even greed and foolishness have their limits. As they say: Mother Nature bats las

t.
BRAZIL RAINFOREST DESTRUCTION RAMPS UP TO NEW LEVELS
As the far right Brazilian administration accelerates the plundering of indigenous lands, Brazil's own space agency satellites have documented a new level of forest clearing in the most remote areas of the rainforest. Many scientists now believe the critical forest carbon sink has crossed the final tipping point in terms of climate effects. The area cleared almost doubled from 579 square kilometers in April 2021 to 1012 square kilometers last month. These losses are an anomaly is that they are well ahead of the months when most deforestation usually occurs. Usually,, the rainforest is still in the rainy season during April and fewer fires are usually lit to clear land for cattle ranching and other agriculture.
When forests and grasslands burn, one of the most powerful climate feedback loops is triggered.
Australia's Great Barrier Reef Hit By Sixth Mass Bleaching Event
Mostly hidden beneath the waves of the rapidly warming Southern Ocean, one of the planet's most iconic natural wonders is dying…or should be say it's being murdered? The ongoing climate emergency has now caused coral bleaching in 91% of reefs surveyed in 2022. Authorities report this was the reef's sixth mass bleaching event and the fourth since 2016. Bleaching doesn't sound so bad, but what it means is that the millions animals that make up the reef are so stressed by the warming waters that they turn white and die en mass. Sadly, this is happening in most coral reefs around the planet.
This event is all the more alarming because it is the first that has taken place during a La Nina cycle, normally characterized by cooler waters.
Texas July heat wave in May as Temps Top 112°F
New records fell in Texas and parts of Colorado as wildfires continue to consume forests in New Mexico and Arizona. The "abnormal" temperatures are moving North and East and will consume much of the country's mid-section in mid-May.
"This was predicted long ago, It's the tip of the iceberg. We're going to see the impacts get a lot worse." – Andrew Dessler, an atmospheric sciences professor at Texas A&M University

Arizona Wildfires Torch Neighborhoods In Cocina County As Emergency is Declared
Fire season in parts of the American West now shows every sign of becoming a year round disaster as high winds drive flames through drought dried forests and neighborhoods. Hundreds have been evacuated. Fires are raging in New Mexico and Colorado.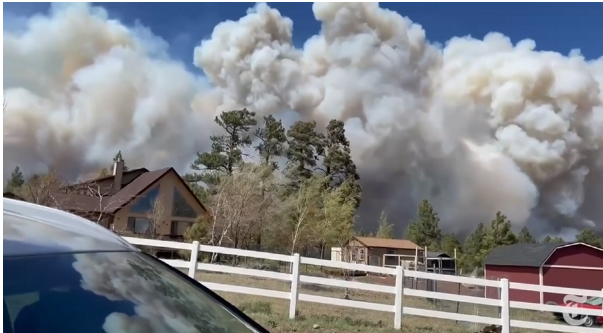 "I'm not ready for this. Not this early!" Flagstaff resident watching her neighborhood burn.
New American Climate Refugees As Waters Close In On Louisiana Communities:
Only 15 miles south of New Orleans, the waters around Grand Island, Barataria, Crown Pointe, and Jean Lafitte are continuing to rise, threatening long time residents of the bayou area. The bayous are disappearing overnight, the ultimate result of 40 years of rapid rise of the waters of the Gulf. State officials estimated that 106 square miles of land were permanently lost to Hurricane Ida, and every new megastorm takes another chunk. According to the U.S. Geological Survey, about a football field worth of wetland disappears every two hours.
South Africa: Over 400 dead in "unprecedented" flooding:
Horrendous rains have brought lethal flooding and landslides that have displaced thousands the Durban, South Africa region. The humanitarian disaster, as always, is magnified by malfeasance on the part of the powers what is. More than a decade ago, poor families were relocated away from a new soccer stadium and dumped in a flood prone area, where they remain. Damages are currently estimated at $684 million and rising. The death toll will climb.
NOAA Report indicates methane feedback cycle may be irreversible
Methane levels in the atmosphere of Earth set a new record in 2021, and the rate of increase was also historical. Concentrations have been growing rapidly for well over a decade. CH4 is 25 times more powerful than CO2 as a greenhouse gas. Permafrost thaw is spewing previously trapped volumes into the atmosphere, as well as hundreds of thousands of gas wells around the planet. The effect is to accelerate global heating at ever increasing rates. More on feedback cycles (feedback loops). The report claims that atmospheric levels of methane reached record levels in 2021.
Idaho faces another year of critical water shortages
As the ongoing drought continues into spring of 2022, Idaho's mountain snowpack is far below normal, with state reservoirs about two thirds full. Unless conditions change, the agricultural sector will be hit hard later in the growing season. Farmers have already been told to expect about a third of their usual allotment.
"A lot of crops are going to have to just dry up and not get irrigated."
Gulf Stream / AMOC continues to slow
as trillions of gallons of fresh water pour into the Northern Ocean.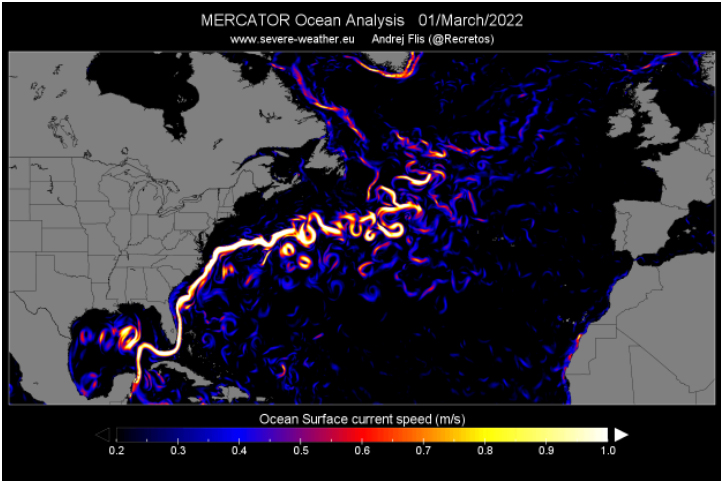 The Gulf Stream carries warmer waters north, where they serve to moderate the climate of northern Europe. Look at the latitude of Western Europe and you will see how far north the nations that invaded North America are located compared to the US east coast. The global ocean current is driven by salinity changes in the northern sea, which causes surface waters to change density and sink (that's basically how it works). When this mechanical process is disrupted, weather becomes unpredictable and extreme, extended events more common.
AUSTRALIA: The reality of calamitous sea level rise smashes into Sidney as boats are torn away from their moorings around the harbor by unprecedented tidal onslaughts.
Bondi and Clovelly beaches seemed to be gone as shoreline clubs and hotels took a pounding from huge wind driven swells. The second major cleanup follows a major flooding event only three weeks ago. Winds in excess of 50 MPH drove the flood waters. It's all part of Australia's New Normal (see our video).
MARCH:
ANOTHER ANTARCTIC ICE SHELF COLLAPSES The insane record breaking temperatures around the South Pole have apparently finished off the Conger Ice Shelf in East Antarctica. The event, which was a surprise to scientists, was triggered by temperatures that were recorded at 70 above normal. The shelf broke off from the continent in mid-March. Until recently, Attention has been on the failing shelves in the West Antarctic peninsula, which is warmer. While the Conger is not in the same league as Prince Gustav, Larsen A , Larsen B and Wilkins ice shelf, it is another significant event in the process. The Antarctic land mass contains enough frozen fresh water to raise sea levels several feet.
Coastal Ice shelves, which are also referenced as Antarctica's safety band, are hybrid formations critical to slowing the migration of the interior land masses into the sea. They are now understood to be melting from below as warming ocean waters disintegrate the bases.
NEW HEAT WAVE ON THE WEST COAST: Records for all time high temperatures crashed on Tuesday and Wednesday (March 22-23) up and down the California coast. The temporary respite provided by late winter storms will not be enough to forestall the intensifying water emergency.
GREAT BARRIER REEF MASS BLEACHING EVENT: Another widespread die-off at the World Heritage site off the northern coast of Australia marks the sixth such catastrophe since 1998. This ongoing environmental disaster is driven by warming oceans and pollution. The most recent aerial survey shows almost no reefs across a 1,200km stretch unaffected by the elevated water temperatures.
The right wing Australian government has approved the world's largest coal mine and a massive new port to support exports on the coast near the reef. Australia is the world's second largest exporter of coal. Dead corals are being recorded in aerial surveys across the Great Barrier Reef in what the marine park's chief scientist says is a widespread and serious bleaching event on the world heritage icon. See Australia's New Normal video.
Drought in the West and Great Plains continues to worsen, and there is no reason not to conclude we are in for a long bumpy ride as the megadrought expands. In late March, 19000 residents were evacuated near Boulder CO as a new wildfire breakout scorched 200 acres.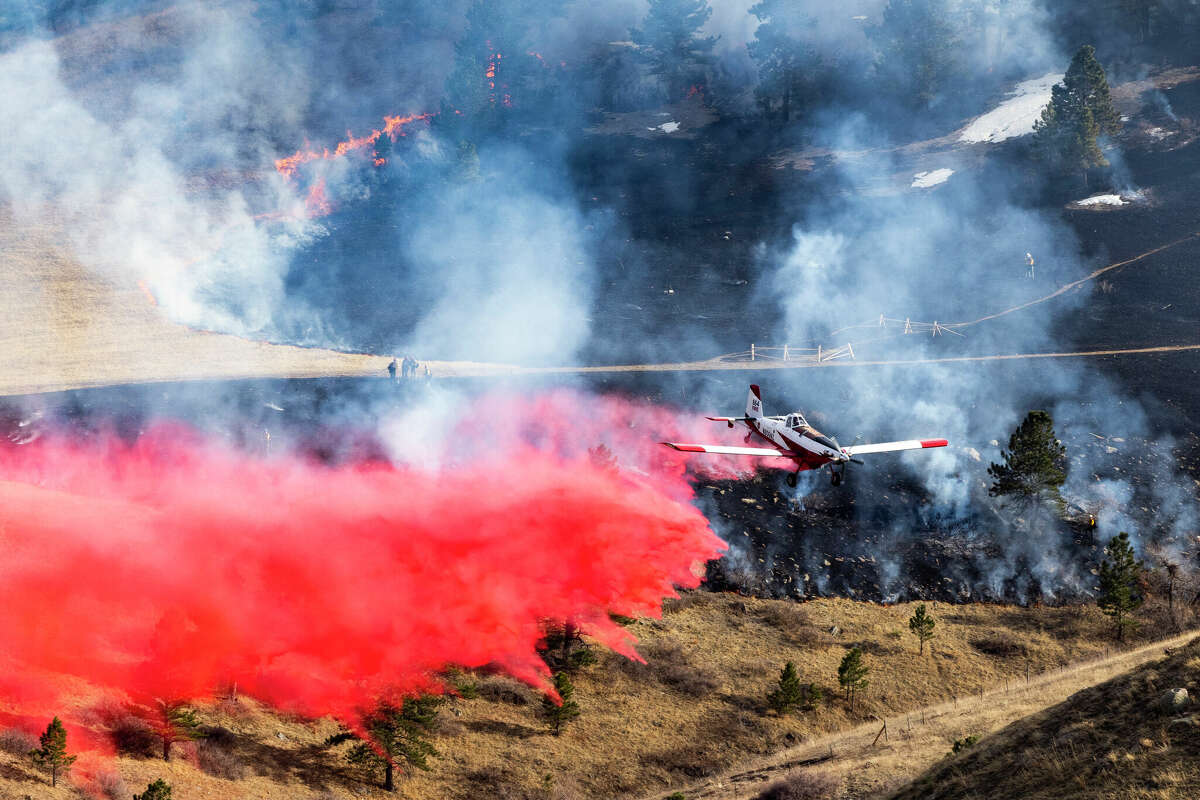 Wildfire Outbreak Prompt Evacuations in Three Texas Counties: The "Eastland Fire" combined with hundreds of other outbreaks to burn 170 sq. mi. in the center of the state. One man is dead, hundreds of people were evacuated and 50 homes destroyed. Rains slowed the spread but the fires are far from contained on March 22 The storms left Texas and moved in Louisiana where they spawned at least two tornadoes and wrecked and unknown number of buildings.
Bomb Cyclone In the Arctic brings temperatures 50F higher than normal. The increase in rain at higher altitudes is expected to speed the already high rate of ice melt. NASA reports that Arctic sea ice is thinning at "a frightening rate" with the total being 16% over the past three years.
Freakishly High Temperatures At Both Poles
Arctic + 70°F over normal temperatures | Antarctic 50°F over normal temperatures
It is late winter in the Arctic but temperatures are nearly at the freezing mark, about 70°F above the normal average at some measurement stations. Some near North Pole stations reported the beginning of melt, far earlier in the season than normal.
On the other end of the planet, temperature records are being set on these last days of Summer. On Friday March 18, the Concordia weather (at two miles altitude) reported 10F and the Vostok station hit 0, a new all-time record by 27 degrees. Terra Nova base was at a balmy 44.6°F. As opposed to the West Antarctic Peninsula, these temps are happening on the vast frozen Eastern Antarctica land mass, the coldest place on Earth.
At the same time, Antarctic sea ice extent is at an all time record low since measurement began in 1979.
BRAZIL FOREST ECOCIDE: The far right Brazilian administration has accelerated the plundering of indigenous lands with new legislation allowing increased mining in the Amazon. Not that this is anything the white folks of the North American European invasions didn't do, but the stakes are even higher now. What environmental regulations remain are essentially gone. The critical rain forest has been under increasing assault by the looney toons Bolsonaro regime, and many scientists now believe the critical forest has cross the final tipping point in terms of climate effects.
A most recent report in the Guardian says that the Amazon has already flipped to a net carbon emitter as opposed to a sink. When forests are cleared, another climate feedback cycle (otherwise known as a positive feedback loop) is triggered.
Forest fires release massive quantities of CO₂ into the atmosphere, trapping heat, causing temperatures to rise, producing more drought, further compromising the health of forests , causing more fires and deforestation. Repeat.
Australia floods
"Waves of Water Just Coming Down"
Australia's new normal crashed the New Year with a rain bomb in the northeast, followed by cataclysmic flooding that has killed dozens and caused the evacuation of tens of thousands. Another 500,000 were under warning in New South Wales.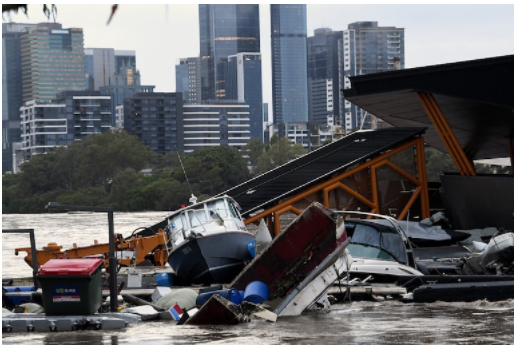 This disaster is the worst since 2011, which was described as "once in a thousand year flooding." But clearly that description is wishful thinking.
For perspective, Shane Stone, the coordinator general of the National Recovery and Resilience Agency told the Sydney Morning Herald that "the taxpayer and the ratepayer cannot continue to pick up the bill for these huge, catastrophic damage events". Stone is a buddy of Scott Morrison, and offers a pithy perspective from a right winger who is supposed to be helping them. Although, in a sick way he is correct.
See our video Australia's New Normal.
Argentina Wildfires
After a scorching heatwave, Argentina is suffering another round of raging wildfires that torched forests and farms across its northern region. Eight separate fire zones in Argentina's Corrientes province have devastated 2 million acre so far.
Authorities estimate early losses at a quarter billion dollars and the counting has not yet begun in earnest. Argentina has already limited exports of beef this year because of the rain shortfall.
The region has been experiencing record heat this year, baking in unprecedented temperatures up to 113°F.
Kenya: Water Shortages, Dead Livestock and Ruined Harvests as Desertification Moves In
"People are still dying by the day."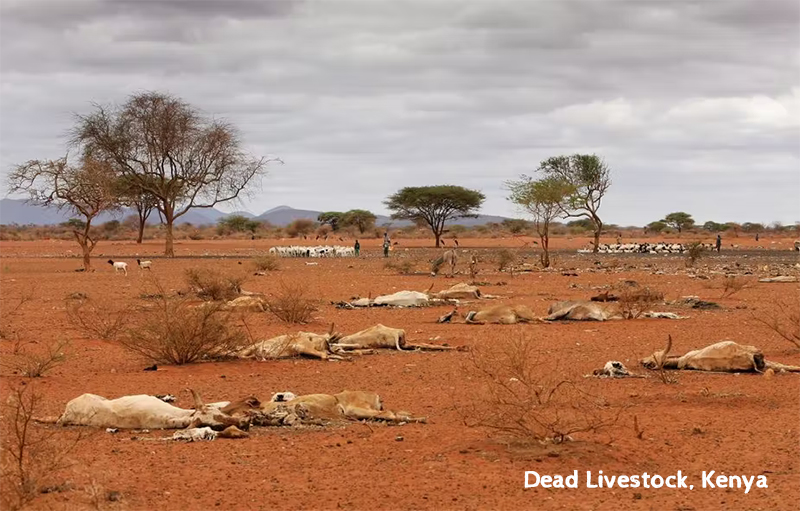 Kenya and the Horn of Africa (Ethiopia and Somalia) are in the third year of failed rainy seasons as the desert takes back the land. 5.5 million children in the region are threatened by acute malnutrition and an estimated 1.4 million by severe acute malnutrition. Millions of head of livestock have died of malnutrition and in Kenya, 62 elephants have starved to death.
And the people are using their flagging strength to fight over resources. The other bookend to climate migration is climate conflict. This is especially true in semi-nomadic pastoral economies as people and animals compete for dwindling water supplies. The results do not generate excellent TV news footage in the way that major wars and missile strikes do. But the results are the same.
Forecasts indicate that below average rainfall will continue into the foreseeable future.
"We are most definitely now sitting on the brink of catastrophe. "We saw animals dying together with their farmers, and the numbers I think are quite shocking."
– Rein Paulsen
Food and Agriculture Organization Director of Emergencies and Resilience
Things Not Great At Great Salt Lake As Toxic Dust Events Loom
The inland sea that forms the iconic core of Utah's Latter Day culture is in danger of disappearing as it reaches the lowest level since the Mormons arrived. About half of the original lakebed area is now dry land In the process, thousands of square miles of dry lake bed is exposed, laying open vast expanses of toxic dust. The dust poses problems for human health but also for threatens natural systems in the area and mountain snowpack.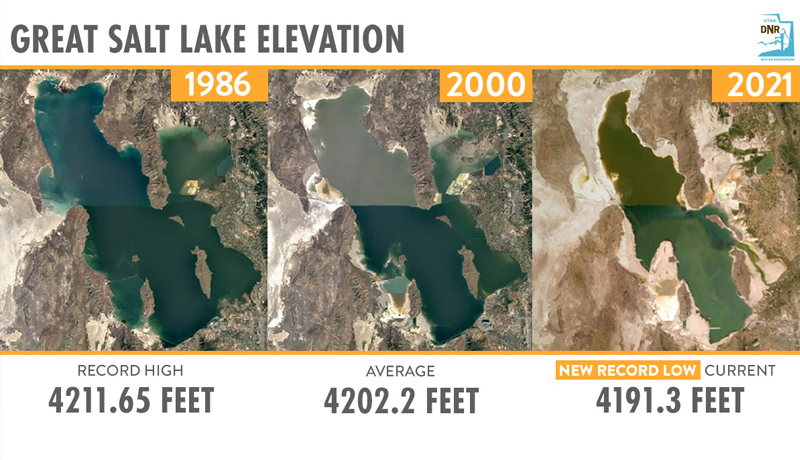 As is the case with most climate related scenarios, the rapid decline of lake levels is caused by a combination of squabbling stakeholders, diversions and global warming driven drought.
The ongoing disaster also creates another feedback loop, similar to the sea ice albedo scenario at the poles. It works like this:
"The dust darkens the snow surface and causes it to melt earlier."
As the lake surface area decrease, it has less and less impact on critical lake effect winter storms. Fewer storms means less total moisture in the region, increasingly drier conditions; which in turn nurtures the ongoing drought.
Polar Ice At Both Poles Is Now Melting From Below
Sea levels continue to rise and when you read this summary it's not hard to understand why. The trillions of tons of ice on Greenland and Antarctica are being dissolved from beneath the ice mass. One process is obvious, the other not so much, but equally alarming. Link here for this reporting.
Syrians Suffer Ongoing Famine As Drought Enters Its Third Decade.
The root cause of the so called civil war in Syria was an unrelenting drought that brought farmers to their knees. The uprising began when al-Assad's government refused to offer aid.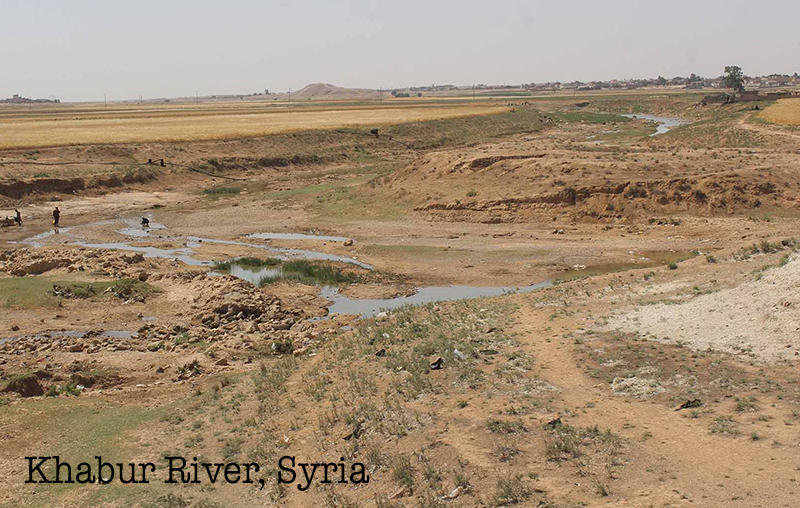 Ten years later, the historic drought moves into its third decade and is reported to be the worst in the Middle East for at least 1,000 years. Conditions have worsened in the past two years, exacerbated by war and poverty. Herds have been culled and crops are generally devastated.
The iconic Khabur river is at record lows, with irrigation for starving farmers limited. The depredations of a brutal Turkish government upstream have contributed to the disaster.
Winter Rains Were Not Enough As Record Heat Returns to California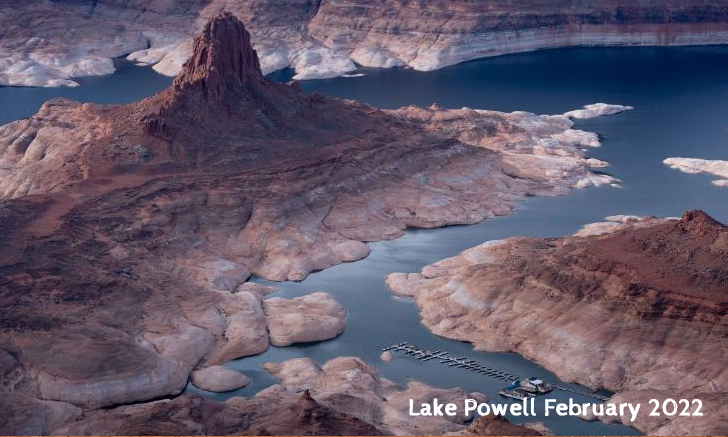 The west coast had record heat combined with light-to-zero precipitation in early 2022, wiping out the modest gains from freak storms late last year. The temperatures averaged 15 to 25°F over normal. San Francisco, San Jose, Sacramento, Fresno and LA, along with some of the Sierra Nevada all recorded their driest January-February period on record.
Lake Shasta, the state's largest reservoir, is at only 37 percent of its capacity. February ended with the news that water districts that supply Central Valley farms will allot no water from the Central Valley Project, further distressing critical agricultural areas. The net result will be continued tapping into aquifers that are already being sucked dry.
Two decades ago, the critical Colorado River reservoir Lake Powell was full. Today it's about 25% full. Once boat marina remains open.
The American West is in an extended megadrought, and it's not the only region under water duress. This is what has been predicted and what is happening on the ground.