CHILE: DEVASTATION SECOND ONLY TO "THE FIRESTORM YEAR"
Extreme heat and an ongoing megadrought are spawning lethal fires in the middle and south of Chile. The fires have torched more than 1,000 sq. miles ((667,000 acres) and killed dozens of people. Satellites show vast plumes of smoke drifting out over the Pacific. As of Feb 5 there were 275 fires.
Temperatures in the Central Valley have been sustained at record levels of 104°F, driven by strong winds, exacerbating an extended drought that made the past decade the warmest and driest in the region's history. The megadrought is responsible for an ongoing water crisis as well.
The region is home to Chile's forest plantations, which contribute to the available fuel for the fires. So far, this fire season is second only to 2017 in terms of acres burned: the 2017 season is known as the fire storm year. As of early February, scientists are estimating 4 million tons of CO2 have been spewed into the atmosphere.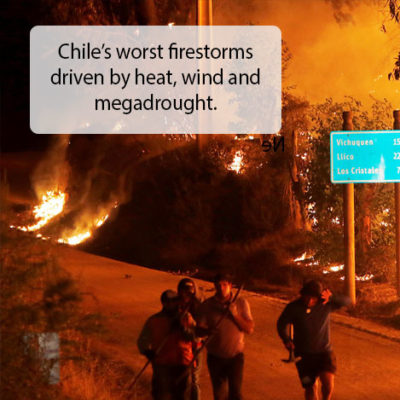 MUDSLIDES KILL 36 IN PERU
Torrential rains have caused lethal mudslides in Peru, with damage made worse by mining practices in the region.
NEW ZEALAND SMASHED BY FLASH FLOODS
Like many many places around the planet, Auckland, NZ is poorly prepared to face what is coming, some of which arrived spectacularly beginning Jan 27. Record rainfall brought a summer's worth of rain in a three day onslaught, driving lethal flooding, major infrastructure damage, power and water outages and evacuations
Drought-Driven Somalia/Ethiopia Starvation
Millions of people in Somalia, Ethiopia and the greater Horn of Africa are on the verge of starvation. The country is bracing for its second famine since 2011 and many predict it will be worse than the last. A two-year drought has devastated crops leaving herders without food to feed their animals.