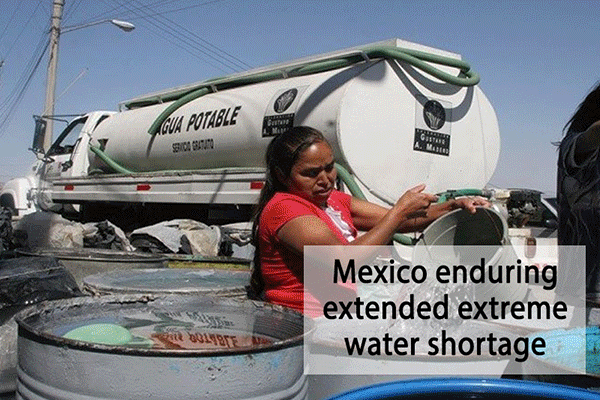 \
AT THE SAME TIME, COCA COLA AND OTHER BOTTLED WATER COMPANIES ARE PLUNDERING 50 BILLION GALLONS/YR FROM MEXICO'S PUBLIC AQUIFERS.
Two-thirds of Mexican municipalities are running out of drinking water, as tens of thousands of citizens stand in line for hours in the heat to wait for an allotment from sporadic government water trucks. The crisis is also fueling unrest, as thirsty people have taken to blocking highways and even kidnapping government workers.
In major urban areas such as Monterrey, the three reservoirs that deliver more than half of the water for 5 million people have been emptied. Some districts have gone 75 days without water, while others get only a few hours of water. This is not an isolated village in the desert. Monterrey is a wealthy metro area of 5 million people.
Roughly half of Mexico is now in drought, about double the area a year ago. Based on climate science reconstruction, this situation reflects the driest two decade period in 1,200 years.
The worsening water shortfall mirrors the extreme problems in the American Southwest, which is believed to be in a megadrought that may persist for hundreds of years. Key reservoirs such as Lake Mead, Lake Powell and Lake Shasta have fallen to critical levels, nearing dead pool status.
Around the planet, the climate emergency is triggering serious water shortages in England, France (worst on record), Chile, Morocco, South Africa, Italy, India, Netherlands, Spain, East Africa and China.
CLIMATE EMERGENCY UPDATES: AUGUST 2022
Dallas: Record Floods Follow Record Drought
Dallas and North Texas got hammered with about a summers's worth of rainfall in one day, as up to 15 in of rain fell in 24 hours. 100s of people were rescued and one person was swept to their death. The event is an example of climate whiplash, a term for drought flood drought patterns increasingly seen around the planet.
China Bridge Collapses In 2 Month Heatwave
A two month long extended heatwave in China is wreaking major damage to infrastructure and agriculture. In central and southwest China, authorities are attempting cloud seeding in an effort to mitigate the lethal drought that has enveloped more than half of the country.
European Lakes & Rivers Drying Up In Drought
More than half of Europe is in the second year of an exceptional drought, as the Rhine, Po, Loire, Danube and Thames are at record low water levels. Agriculture and shipping are facing various levels of emergency.
Thames Source Running Dry
The upstream source of London's River Thames has dried up and migrated downstream, after weeks of low rainfall and a record-breaking July heat wave.
Death Valley Flash Floods
Authorities describe 'nearly an entire year's worth of rain in one morning' as deluge becomes second major flood at park this week.
New Heat Records In Maine
Temperatures soared across Maine on Sunday, setting records in Portland. which reached 96F. The reading broke the two most recent records, both set since 2000
More Devastation In Kentucky
Flash floods have killed at least 37 people in eastern Kentucky, with hundreds of homes and businesses wrecked by more climate driven extreme weather..
South Korea Also Gets Record Floods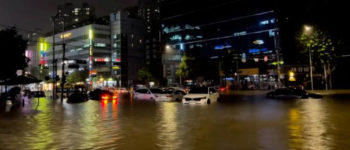 Lethal flooding has also his Seoul, Korea following record downpours, resulting in at least ten dead, mass evacuations and flooded subway stations in the capital.
Rhine River Levels Threaten Shipping
Drought and another record heat wave have resulted in rapidly dropping water levels on the critical Rhine River in Germany.